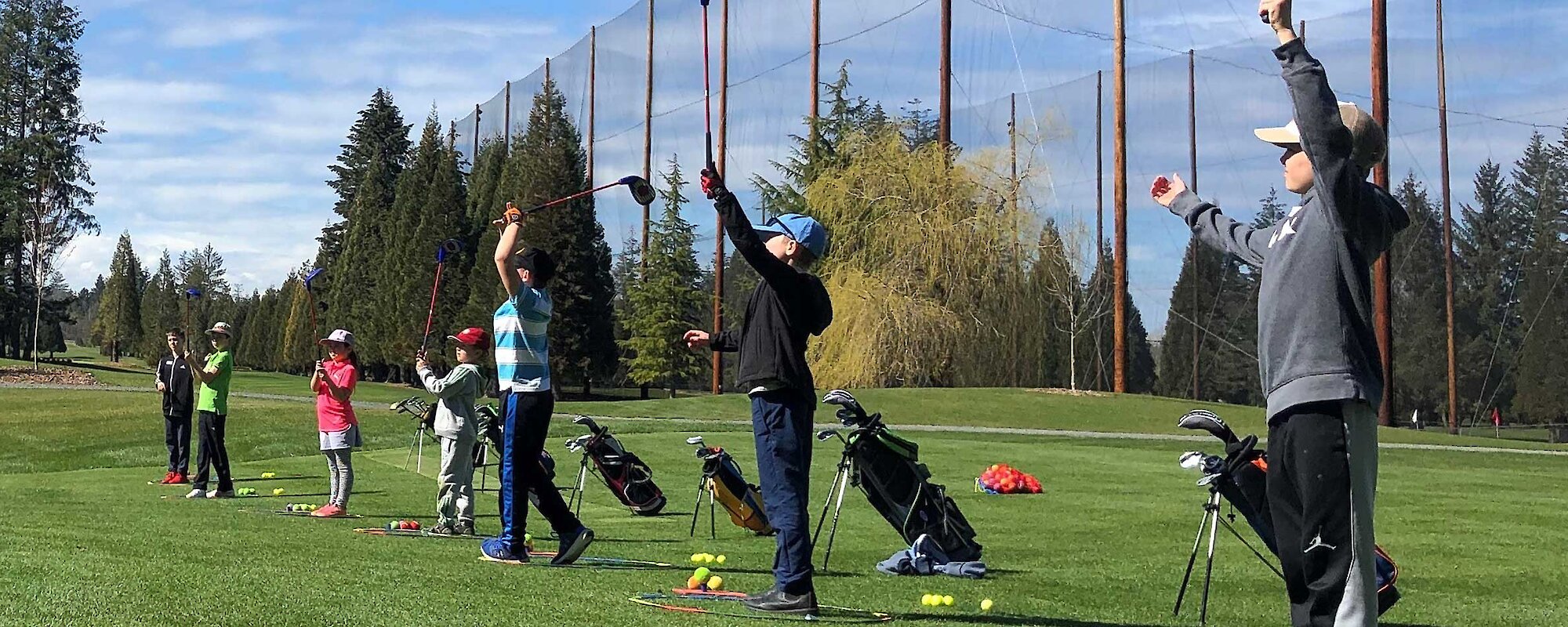 Registration is full. 
Calling all parents! We have some exciting things planned this Spring for your budding golf enthusiasts. Let your child enhance their golf skills with our golf pros using the Future Links Learn to Play Programs. Our 6-week programs are designed to be fun and engaging with plenty of opportunities to learn and grow.
Future Links is based on 7 different core modules, here is what your junior golfer will experience:

1. Golf 101's: Safety, etiquette, rules, course, equipment, terms, and golf heroes.
2. Fitness & Health: Fundamental movement skills, golf physical skills, and performance skills.
3. Skill Development: Putting, full swing, chipping, pitching, and sand play.
4. Playing & Competition: Prepare for recreational play and competition.
5. Mind Matters: Relaxation, breathing, stress control, technical cues, and goal setting.
6. Life Skills: Respect, honesty, integrity, sportsmanship, responsibility, courtesy, and perseverance.
7. Parenting: Topics for parents about children in sports and their role.
FUNdementals (Ages 6-10):
An excellent program for younger juniors who want to experience how much fun golf can be, this program incorporates SNAG Golf (www.snaggolf.com).
Dates and Time:
- Every Tuesday from May 16th to June 20th, from 3:30 pm to 4:30 pm
- Every Thursday from May 18thth to June 22nd, from 3:30 pm to 4:30 pm
Cost: $150.00 plus GST.
Learn to Golf (Ages 10-14):
Ideal for slightly older juniors who want to gain experience to get out on the golf course and play golf.
Dates and Time:
- Every Wednesday from May 17th to June 21st, from 3:30 pm to 4:30 pm
- Every Friday from May 19th to June 24th, from 3:30 pm to 4:30 pm
Cost: $150.00 plus GST.
Don't worry about equipment – we've got it covered! However, if your junior has their own golf gear, they are more than welcome to bring it along. Our golf pros are passionate about golf and committed to helping your child grow and succeed.
May 16 - Jun 20, 2023
May 17 - Jun 21, 2023
May 18 - Jun 22, 2023
May 19 - Jun 23, 2023
3:30pm - 4:30pm

Campbell River Golf Club

Cost: $150.00
Contact: William Mounsteven
250.287.4970 ext.2